Overview
Every Family is Unique.
All Smiles Dental Spa started in 2016 in East Meadow,NY as a luxurious dental spa. All Smiles had at the time hired RGM to build their first website and achieved extraordinary success overtaking top of page results on all their most valuable keywords and phrases. In late 2020, All Smiles decided to rebuild with a new high end user experience, photography and videography. There was 1 caveat - we can't lose our search engine rankings! Our experience in website migration makes this very attainable but a challenge none-the-less. All Smiles Dental Spa offers something special to customers: a personal connection to patients, and it was our job to broadcast that message. We chose to build the websites on Strapi, a headless CMS, to provide a more powerful, more responsive and more secure experience for the user. The result was a cleaner, luxurious design and an over increase in organic search engine traffic.
Work
Integrated marketing
Our 40 years of combined experience enables us to improve upon the search traffic this client was already receiving
Campaign
We created additional Google Ads campaigns to capitalize and truly dominate the search results in the area.
Outcomes
315%
Increase in Organic Traffic
134%
Increase in Conversions
50%
Reduction in Conversion Cost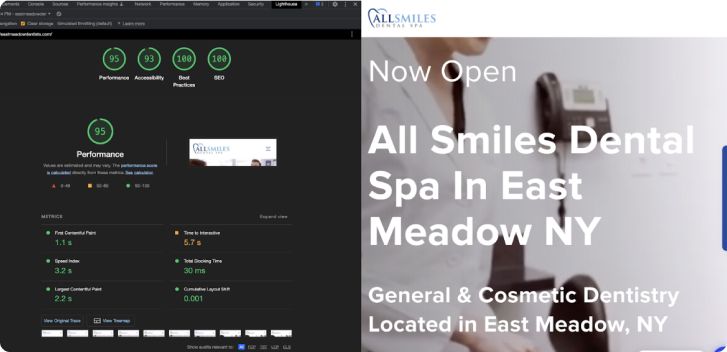 SEO Outcomes
Eastmeadowdentists.com Years of continuous growth displayed in the graph below.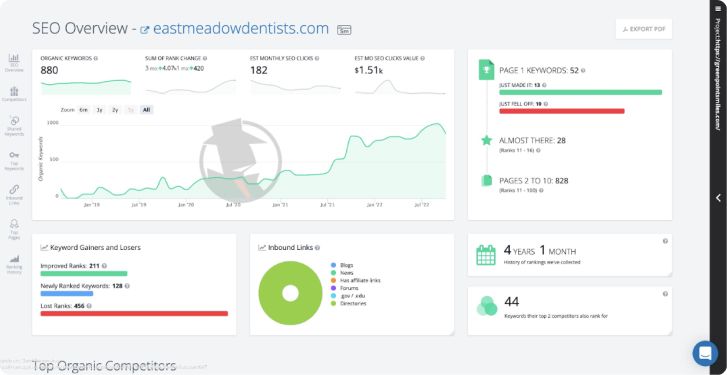 Keyword Profile
dentist hempstead turnpike east meadow
dental implant east meadow
dentist in east meadow that accepts guardian
general dentistry east meadow ny
east meadow dentist
invisalign east meadow
dental implants east meadow ny
emergency dentist east meadow
teeth whitening east meadow ny
tooth extraction east meadow
invisalign east meadow ny
dentist in east meadow
emergency dentist east meadow
root canal east meadow
tooth pain east meadow
tooth extraction cost long island
dentist in east meadow that accepts cigna
dentist east meadow, ny
east meadow dentists
dentist in east meadow, ny
dentist east meadow
dentist in east meadow that accepts insurance
east meadow dental
dentures east meadow
dentist east meadow ny
dentist in east meadow ny
all smiles dental practice
wisdom teeth removal long island
wisdom teeth removal long island
smile dental spa
why yellow teeth causes
wisdom teeth removal near me price
empire blue cross blue shield dentist near me
dentist near me empire blue cross blue shield
dentist on hempstead turnpike
BPA-free dentist